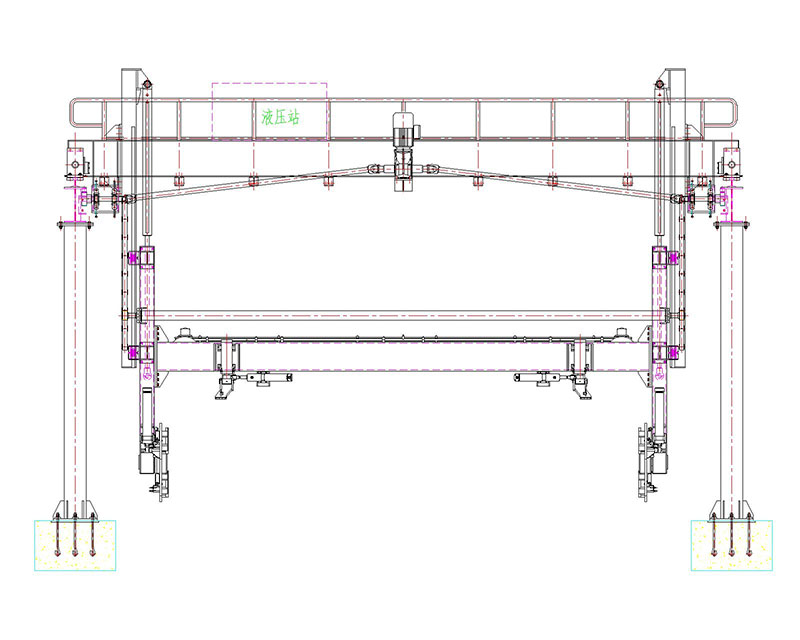 1. The traveling of the crane adopts rack-and-pinion drive and positioning with encoder, which not only realizes high-speed operation but also ensures positioning accuracy.
2. The lifting and lowering of the crane can be hydraulically driven and the reinforced guide frame. (The high-position plug and pull drill machine only uses steel wire rope and has a diamond-shaped guide system).
3. The column of the walking beam adopts the embedded bolt type, which has the advantages of easy installation, adjustment and improved stability.
4. The beam adopts 400*200*10 rectangular tube, and the vertical beam adopts 300*200*10 rectangular tube, which is processed and assembled by the whole.
5. The lifting, unlocking and turning of the crane are all hydraulically driven.
6. Mould grab hook adopts direct grab structure, with hydraulic locking and mechanical self-locking to ensure the safety of lifting.
7. The mould unlocking adopts a hydraulic cylinder-driven direct-opening structure, and the locking arm rotates 90° to open the lock hook for lifting and demolding, simplifying the lifting action.